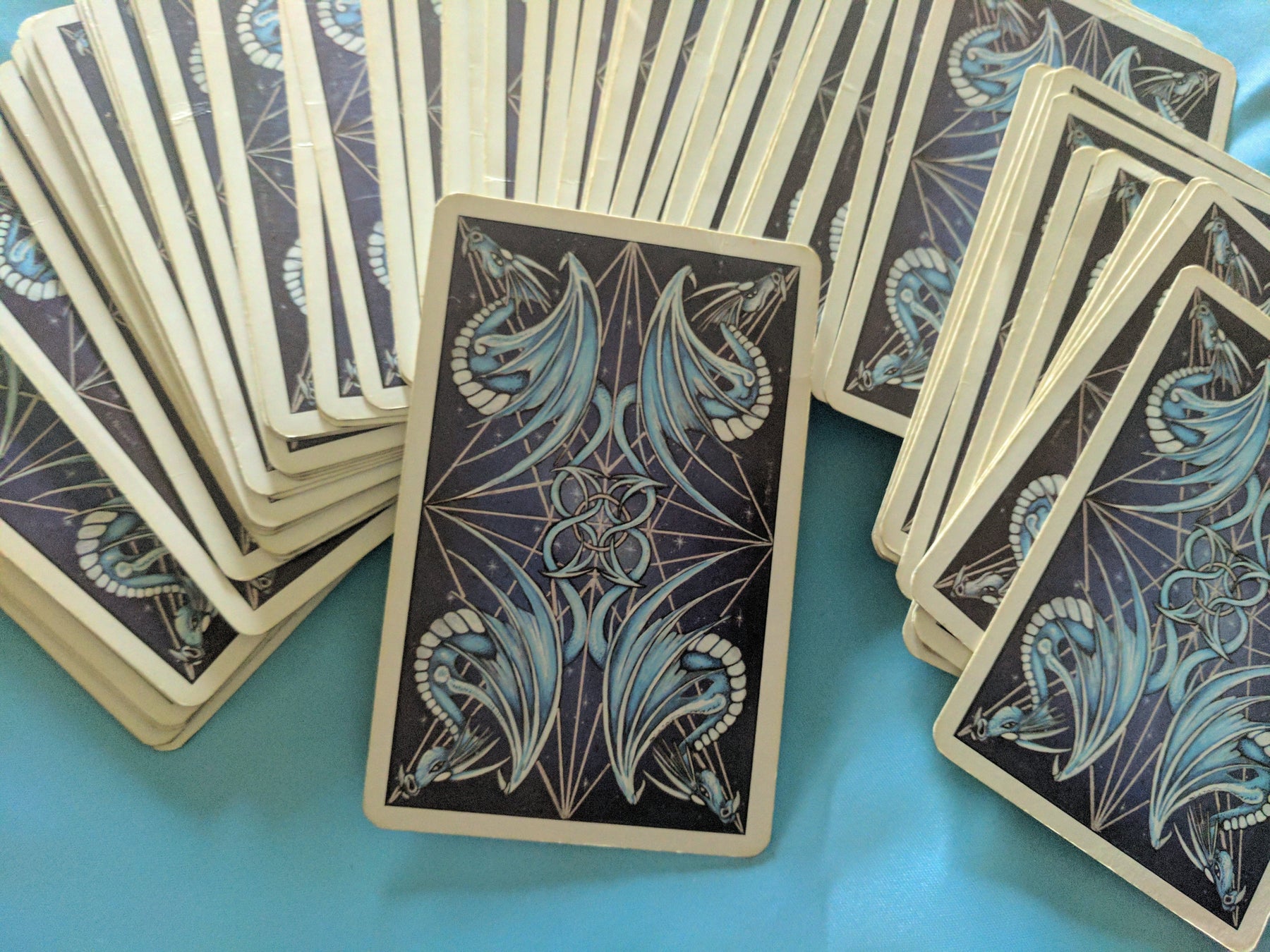 Spirit Talk May 2017
There are many different tarot card decks you can use, the past couple of tarot readings were with the traditional Rider Waite deck or the Baraja Espanola.  
While the overall meanings for tarot are usually the same, each deck will have it's own special vibrations & the interpretation will be a bit different.
This month's deck is a very special & unique Dragon Tarot Deck. Dragons are symbolic of strength & wisdom in many different cultures.
This month's mini reading is with 3 cards.
The cards are:
Strength-in reverse
Wheel of Fortune-in reverse
Queen of Coins
Candle: White & Yellow, in any size you like.
Spiritual Color: Yellow, for mental focus & concentration
Spiritual Herb/Incense: White Sage
Now when cards are reversed, sometimes people automatically think the worst, freak out & think things are going to be bad. That is not accurate. When cards are reversed, it is allowing you the opportunity to be informed of possible conditions, situations or energies at play.
The Strength card in reverse says we must not be too emotional. We must think things through carefully and without too much emotion attached. It tells us that making long term decisions over short term feelings or emotions is NOT the way to go right now.
Remember the Fire Rooster's message for this year? This is the year to THINK & PLAN, to set up the foundations for the future. This month's reading is only confirms this!
Read that blog here: Fire Rooster Blog
The Strength card is supported by the Wheel of Fortune in reverse. The Wheel of Fortune in reverse warns that we may have exaggerated expectations of a situation or person. We may not be seeing things clearly or as they really are, we may be too focused on what we want to happen.
These two cards are telling you & giving you the opportunity to avoid potential issues in whatever situation you are concerned about; whether its your job, relationship etc.
The queen of coins is about a person wanting to develop the work side of their life. If you are looking at trying to find a job or expand your business, listen to what the 2 previous cards said!
Do not be afraid to make decisions but make them after carefully going over the pro's & con's. 
Spiritual Working for this reading:  Burn a white candle & yellow candle with a glass of water in between. Take time to focus & thing about what it is you want to do & how you can accomplish it. Light some White Sage in any form to help purify & clear your thoughts. 
Use our Pine Needle Soap or our Spiritual Clearing Powder for direction & clarity.
Blessings & if you liked this reading, schedule your own personal reading today.